By Shivam Vij
(This article first appeared in HuffPost India on 11 April 2016.)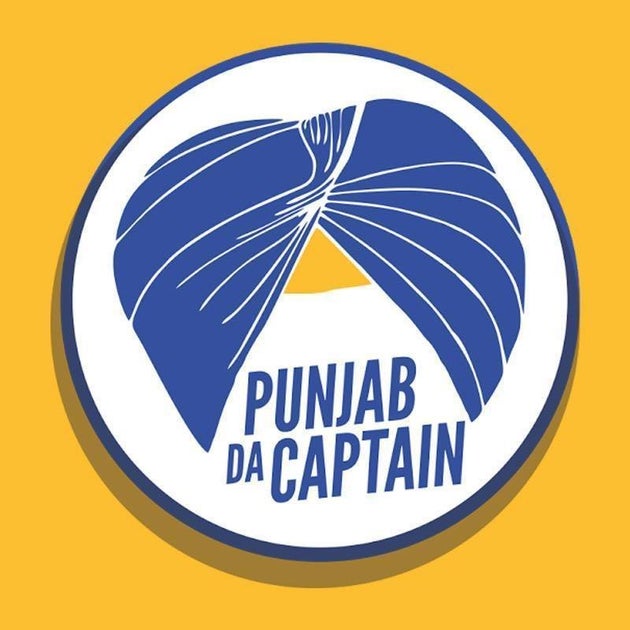 It's a sketch of a blue turban, a yellow inner turban prominently revealing itself through it. The background is white; there is no face. It's the logo of 'Punjab da Captain', Prashant Kishor's campaign to project Congress leaders Amarinder Singh for the chief minister's chair. The idea may seem obvious, but there's more to those three words and the sketch than meets the eye.
For one, why does that sketch not have Amarinder Singh's visage drawn out? Typically, every such detail in a Prashant Kishor campaign is part of an elaborate communication strategy.
Son of the soil
In pitching Amarinder as 'Punjab da Captain', Punjab and Punjabiat are being asserted. By doing so, there's a subtle suggestion, one that could become less subtle as the months pass by, that Punjab needs a Captain who's an insider.
A comparison with the competition is left to the voter's subconscious. Unlike Amarinder Singh, the Aam Aadmi Party's face, Arvind Kejriwal, isn't Punjab da. He's a Haryanvi who's Delhi da Captain. He's been wearing a yellow pagdi in his Punjab campaigns, yet he's neither Sikh nor Punjabi.
Sikh leaders of the Congress party are reticent in wearing ink blue turbans, associated with the Panthik Akali Dal leaders. The choice of the blue pagdi on the sketch is to appeal to Jatt Sikh voters, traditionally a constituency of the Akali Dal. Since the Akali Dal is down and out in Battle 2017, that vote may look for different pastures.
You will find photographs of Captain Amarinder Singh wearing the blue turban in large posters, but in person, he's mostly sticking to his pastel shade pagdis. The blue bent can't be so complete as to start alienating the Hindu voter.
Who'll be the Captain?
All shades of the palette are being deployed, because the Aam Aadmi Party seems to have managed to impress one and all in Punjab. The AAP has been projecting the Congress as being just as undeserving of the reign of the state as the Akali Dal. There are corruption charges, allegations of drug protection and indifference to the voter's plight against the Congress, too. But the Congress' main advantage is that the Captain is still a formidable force and largely enjoys a good image amongst voters. The Congress has the only thing that the Aam Aadmi Party does not: a credible chief ministerial candidate.
The faceless blue pagdi sketch, then, is the visual equivalent of telling the voter, 'Who is the Captain of Punjab? Repeat after me…'
A HuffPost-C Voter survey recently said the Aam Aadmi Party could win 94-100 (of 120) seats if elections were held now. The same survey also showed Arvind Kejriwal ahead of Amarinder Singh in popularity, that Amarinder Singh's popularity had increased since last year, and that between Amarinder Singh and the AAP's Bhagwant Mann, Captain was way ahead.
Bahari versus Punjabi
Going by the subtle messaging of "Punjab da Captain", Prashant Kishor seems to be challenging the Aam Aadmi Party to name a captain, and a captain who is a Punjabi, son of the soil. This is similar to the 'Bihari versus Bahari' slogan that Kishor had used against Narendra Modi and Amit Shah in Bihar. Modi and Shah had dominated the Bihar campaign despite being non-Biharis and not seeking the office of the chief minister of Bihar. Similarly, Arvind Kejriwal is chief minister of Delhi, who has become face of the AAP campaign in Punjab, and he can't say who his chief ministerial candidate for Punjab is.
The Aam Aadmi Party has cleverly exploited various issues facing Punjab, issues whose gravity has made life miserable in a once prosperous state. These are drugs, unemployment, farming distress, the flight of industries away from the state, and Sikh religious issues. "Punjab da Captain" tries to own the conversation about all things Punjab. It doesn't always project Amarinder as the man with solutions. The campaign itself asks voters to talk about Punjab's problems and solutions. It does so on social media and in on-ground events. The idea, again, is to show ownership of Punjab and its issues.
From Maharaja to Captain
The Aam Aadmi Party's appeal to Punjab's voters is that of the aam aadmi, the common man. Whoever their chief minister be, it is the common man who'll be in power. By contrast, Amarinder Singh is the distant royal who is said to come to life at 11 am, and not available even to his own party workers after sunset. He likes his drink, takes his status as Maharaja of Patiala seriously, and spends time on such leisurely activities as World War II stories. He takes weekends and holidays off, is not a 24×7 politician.
To counter that image is the word Captain — Captain as in team leader, Captain as in the Amarinder Singh who was a Captain in the Indian Army when he fought the 1965 India-Pakistan war, and captain as in Amarinder Singh.
Coffee, not lassi
If only such a multi-faceted captain could be around his people. Okay, here he is, having coffee with you.
"Coffee with Captain," a series of high-profile interactions with young urban voters, seek to change the inaccessible Maharaja image. Some have joked it should have been whisky with Captain, some have said it should have been lassi with captain in keeping with the spirit of Punjab. But coffee is chosen for a specific purpose and a specific target audience. One meets people over coffee in casual meetings. One does that over tea, too, but conversations over coffee are the ways of the urban youth.
College-going urban youth have also been especially targeted by the Aam Aadmi Party. Their voice is much larger than their votes. It is a segment that is key to public opinion about the politics of Punjab, not least because it suffers the most from Punjab's vicious cycle of drugs, unemployment, industrial decay and farming crisis. As part of 'Punjab da Captain', Kishor's Indian Political Action Committee has been appointing 'college captains' on every campus. The move seeks to give urban youth a sense of ownership in Captain's campaign, and connecting it to 'Coffee with Captain'.
The difference between Coffee with Captain and Modi's Chai pe Charcha, also organized by Prashant Kishor's team, is that Modi wasn't willing to take live questions and answer them impromptu. In 'Chai pe Charcha,' the questions were screen a few days in advance, and Modi was ready with the answers. Kishor's second client, Nitish Kumar, was also never seen taking impromptu questions from the public. In today's politics, doing so is fraught with danger.
The conversation is moving
'Poocho beta', Amarinder encourages people asking him tough questions, like a family elder letting you have your say, be cathartic about your emotions. They asking him about his alleged alcoholism (he claimed he quit two years ago), or about his not doing justice to his Constitutional position of deputy leader of opposition in the Lok Sabha, or the corruption charges against him.
Amarinder sits on the centre of the stage, a moderator conducts proceedings from the sidelines. Nobody expects the coffee to turn sceptics into voters over a cup of coffee – can it be said if anyone voted for Modi because of a Chai pe Charcha event? Yet what the twin campaigns of 'Punjab the Captain' and 'Coffee with Captain' have achieved in just about a week is to make Amarinder Singh the topic of conversation in a state where the political chatter was dominated by the AAP for at least a year.
Instead of having to respond, Congress' Captain finds himself setting the agenda. Even if this conversation means inviting some criticism and controversy, what is paramount in election time is to be the centre of conversation – like Modi in 2014 or Nitish Kumar in Bihar 2015, or like the Aam Aadmi Party in Delhi since 2011.
Every Congressman is captain
As the AAP prepares a comeback, Amarinder Singh's biggest challenge may be his own party. Suffering from typical Congress-style factionalism, Amarinder faces mounting dissidence that may even look like open rebellion. To counter this, he now meets party workers in different parts of the state and sits down with them for a chat almost every day. A lot of the rebellion that comes from small local leaders is patronised by Delhi-based Congress leaders who aren't exactly in the same camp as Amarinder Singh. Getting the Congress high command to crack the whip on some of this will be a lot tougher than having coffee with angry young men in Ludhiana.